Customize Software Development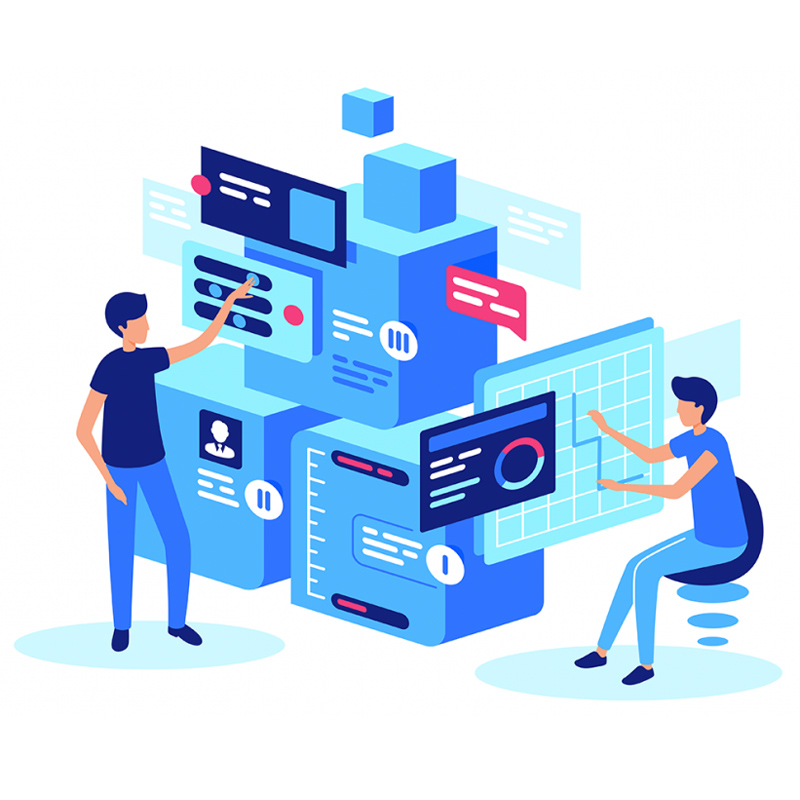 Customize Software Development
By utilizing WEB3CREATIONS' customized software development services, you can create scalable and future-proof solutions. Improved throughput will be achieved as our cross-functional, agile teams use the most recent advancements in software delivery.
We are a custom software development business specializing in developing customized software solutions for web and mobile platforms. The scope of our custom software development services extends across the entire software development lifecycle, from concept to delivery and maintenance. Our software developers create custom software solutions and adhere to strict business standards to offer a product that has a measurable impact on your company's profitability. Our world-class custom software development services are tailored to the needs of start-ups, small-to-medium-sized businesses (SMBs), and enterprise-sized businesses.
WEB3CREATIONS, a custom software development company, can help you supplement your existing development team to accomplish a large project or create an entirely new software solution or application from the ground up.
Our software engineers and developers design and develop unique CRM systems that best meet the needs of our clients' businesses. They also install and migrate industry-leading platforms such as Salesforce, SugarCRM, Microsoft Dynamics, SAP, and others to ensure seamless CRM integration.
Services and Solutions for Enterprise Resource Planning (ERP)
ERP systems are designed to handle fundamental business tasks such as inventory and distribution management, manufacturing, accounting, and more. We construct custom ERP solutions by reworking existing or developing ERP systems from scratch.
Solutions for Point-of-Sale and Payment Processing
Our point-of-sale (POS) programmers easily connect industry-leading solutions and POS terminals, such as Clover, Verifone, Ingenico, Stripe, Worldpay, and others, into your business systems, allowing for simple financial transactions to take place at the register.
Solutions for Artificial Intelligence and Internet of Things (IoT) connectivity
Intelligent IoT and M2M devices, such as intelligent home equipment, consumer electronics, wearable technologies, industrial automation mechanisms (IIoT), and other IoT and M2M devices, are among the many types that we program and integrate.
Our experts will guide you through the entire process, from start to finish
To assist our clients in growing their businesses and maximizing their return on investment, we take a full-cycle approach to software development to produce ready-to-use, competitive, and maintainable software solutions. We free you to concentrate on your most important business objectives by learning about your requirements and developing a plan to assist you in deploying quickly.
1. Requirements Identification and Analysis
In-depth project requirements analysis, with recommendations for the optimal architectural solution and a roadmap for the entire project's implementation and completion.
2. User Interface/User Experience Design
Developing a design plan from the software specs, creating design mockups, and creating a project prototype are all examples of what we do.
3. The Development of Software
Both front-end and back-end development are performed, with the programming code generated in the previously selected programming language.
4. Testing
Performing quality assurance testing at every development stage, identifying faults, reporting them, keeping track of them, correcting them, and retesting.
5. Deployment and follow-up services
The actual product release phase, the product deployment on the market, and the subsequent support and maintenance.
What is the need for custom software development services for your company?
Greater Scalability is a plus.
Custom software development services enable firms to expand and scale up their operations cost-effectively. Because of this, the company may expand its product and service offerings without having to invest in extra gear or hire additional employees.
Improvements in Reliability
It is designed to fulfil the specific requirements of a given business. There are no compatibility difficulties with other programmes because it focuses on the company's requirements and is reliable, which means that downtime can be kept to an absolute minimum.
Addresses Concerns Regarding Security
In custom software development, security challenges are addressed head-on by creating impenetrable software for hackers. No business owner should be concerned about the safety of their data.
Increases Productivity
Custom software is simple to use, and business personnel can quickly discover information and execute tasks without going through a lengthy learning process. It also contains simple-to-understand reports that provide management with the critical information required to make informed decisions regarding their company.