About Us
WEB3CREATIONS started in 2009; New Delhi, was where we worked. Our service range includes website designing and development, mobile application designing and development for android and IOS, SEO and SMO, Digital Marketing, MLM Software's Development, Customize Software Development, and other things. Our team of experts takes a lot of work to make sure that you get the best service possible. When we work together, our company can use both intelligence and imagination to come up with flexible solutions to complex problems.
We are a marketing communications company that focuses on advertising, branding, digital marketing, and other things. Your needs and our main goals are always in mind. We work hard to meet them. As a result, we are one of India's best digital marketing and SEO businesses. Everyone on our team wants to do more for us in any way they can. Many people in India have chosen us because of how good we are at service and how hard we work. Ours is the best place to look if you want one. Various customers have worked with us for more than 11 years, and many of them have worked with us for a long time. We came up with original ideas and tried proven practices to help them meet their business goals. We want to build world-class mobile-friendly websites that work well for your business and grow with you, so we work hard on every project as if it were our site. We work with young and excited people about web design and development. They want to help you with all of your needs. With our SEO programs, we can help you build a brand and get your business seen all over the world. It all comes from us. Responsive software for making mobile web pages is being produced. We also help with SEO.
WFortunately, you've arrived at the correct location, where you'll find custom-tailored and cost-effective SEO solutions for all of your business's demands. When we meet at this place, we build relationships that last long. If you are happy, we can give you results that will make you want to come back for more work, like website design and development and more. We can also help you with organic and inorganic SEO through search engine optimization, social media optimization, email marketing, and more. Search engine optimization is a specialty of ours, and we'll use tried-and-true tactics that will continue to work in years to come to propel your website to the top of Google's search results. Collaborate with us; we will assist you in exploring your business's more considerable digital potential. We help companies establish a solid foundation in their industry and rapidly increase their sales. If you're looking to accelerate your growth, you can select the most appropriate SEO plan and propel your firm to new heights.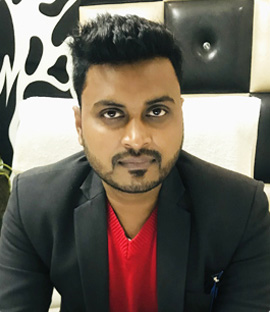 CEO's Message
Recognizing the basic need to approach the issue of business development and growth across the Real Estate, IT and BPO Industry, we at WEB3CREATIONS believe that the key element of this alteration is change - an alteration from within and without Guided by the reflective thought expressed by great achievers, each of us must be the change we desire to see on the globe, we have endeavored to consign ourselves to provide complete business solutions to all our valued customers across the I.T, Real Estate and BPO industry; solutions that coalesce high-end skill, intend and aesthetics and meet customer aspirations and prospect through finer standards of performance and service.
The aim for WEB3CREATIONS is to be a proficient and receptive commercial entity, which positively alters the quality of life in society at large."
To build world-class concepts across three business lines with the highest standards of professionalism, ethics, quality and customer service.
To contribute appreciably to edifice the new India and become world's most valuable partner in real estate, I.T, BPO and marketing.
Continuous endeavors to enhance customer value and quality
Moral and competent service
Compliance and esteem for all community, environmental and lawful requirements.
With this as the founding philosophy, WEB3CREATIONS is certain of establishing a national headship position in all its areas of businesses. Business growth apart, the company is also deeply committed to playing a key function in discharging its social obligations by conforming to specified norms of legal, environmental and ethical practices.